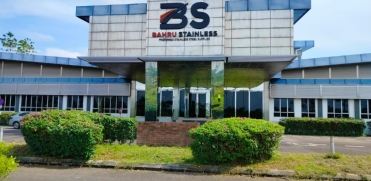 Bahru Stainless is the latest addition to the Acerinox Group (Acerinox S.A.).
Acerinox S.A. is listed in Spain on the Madrid Stock Exchange.
Acerinox S.A., is known worldwide as the most competitive group in the world in stainless steel manufacturing. From its constitution, it has carried out a continuous program of investments, with development of own technological innovations that in some cases, has constituted a true landmark in the technology of stainless steel.
In production capacity, Acerinox Group is the first world producer, with a melting output of 3.5 million MT. It is formed by three flat products fully intergrated production process factories: Acerinox Europa, the Factory of EL Campo de Gibraltar (Spain), the first one in producing more than one million tons per year (2001), North American Stainless, N.A.S. (Kentucky, USA), also fully integrated since February 2002, with the start of the melting shop, and finally Columbus Stainless (Middelburg, South Africa) that becomes part of the Acerinox Group in the year 2002.
In February 2008, Acerinox decided to carry out by stages the new Malaysia project. This decision was taken after a thorough feasibility study, which included different alternatives, resulted in the construction of an integrated production plant in Johor Bahru.
The project in its last stage will be a stainless steel integrated plant with 1 million MT melting capacity and 600,000 MT cold rolling capacity.
In long products, Roldan, S.A. (Ponferrada, Spain), the very modern long products factory of N.A.S. (Kentucky, USA), inaugurated in 2002, and Inoxfil, S.A. (Igualada, Spain), are also leading international companies in terms of competitiveness of their production structure.
With this excellent production structure, the Acerinox Group reaffirms its leadership in competitiveness, having three of the most competitive fully integrated factories in the world in three different continents and will increase to four in the future.
Thanks to the extensive commercial network, the Acerinox Group achieves a worldwide active presence, selling in more than 80 countries.